Be it to watch how-to videos, ASMR meditation, movies, or songs, YouTube has become the go-to option for everyone. Each of us knows at least one artist or content creator who became an internet sensation overnight by capitalizing on Yt tools. From creative advertising to the ability to reinvent themselves with changing trends, YouTubers have mastered the art of keeping their audience intrigued every second of their watch hours.
62% of online businesses use YouTube as a channel to diverse their outreach and cash on the popularity of video content. Since it's feeding over 1 billion watch hours every day, it's no surprise that it's a leading search engine worldwide. It's only second to Google and has defeated Bing, AOL, Ask.com, and Yahoo!.
If you have a creative mind and content to offer or service to sell, YouTube is waiting for you. That's precisely why, in 2020, there were approximately 37 million channels on the site and more adding to the number.
Seeing the surge in YouTubers' popularity, many novices aspire to start their channel with little direction. They're clueless about the technicalities of doing that or ways to keep it running.
Here's a guide that'll help you learn the ropes.
1. Create a Business Channel
The paranoia of entering the big game is real. You may have aspired and planned to become a notable YouTuber, but you begin to have cold feet once you're on the saddle. It's normal. Before you let the anxiety get to you, start with the basics. Set up a business channel.
All you have to do is sign into YouTube and go on the user icon on the top right. The gear icon will lead you to your channel's account settings. Once you create a new channel, click on it, and voila! You're already on the playing field.
Next, decide on a name for your channel. This can be your name, your business/brand name, a catchy title for your content, or anything under the sun. Once you hit create, you have your own YouTube business channel!
2. Fill In The Details
This is the part that determines whether your brand voice or content will get the traction you want or not. As we've mentioned already, millions of content creators exist out there already. There's no dearth of options for viewers should they choose to move past your video. The risks are steep, but you can turn the odds in your favor by filling out the About section for your business channel wisely.
Use this space to add links to your blog or website, or social media pages if you have any. Describe what your business is about and how you expect to keep your audience engaged. This will lay the groundwork for the kind of content that's yet to come.
Make sure you put your best foot forward because your channel's About description will appear in many places. That's your motto and should put into words the essence of your business/brand/content.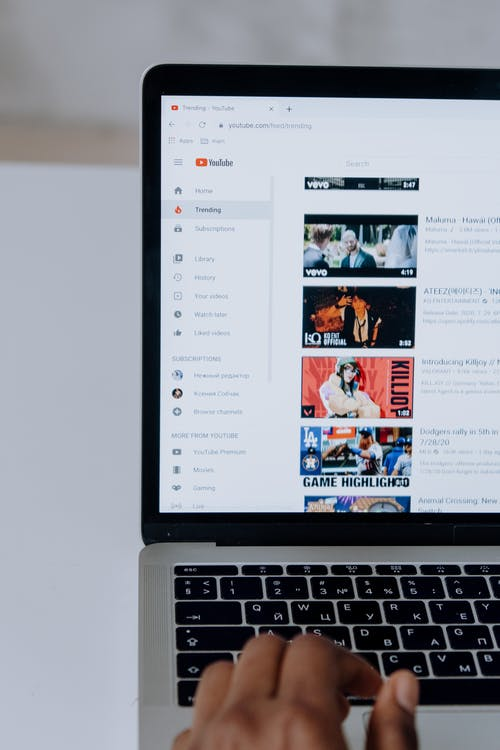 3. Upload A Creative Cover Photo
The big banner that you see when you visit your channel is prime real estate. This is the equivalent of a brick-and-mortar store for your brand, so make sure it's attractive, creative, and legible.
The cover photo that goes up here can be as extravagant or minimalist as you like; either can convey what you feel or preach from your platform.
The focus, however, should be on the brand itself. The colors, fonts, and sizes you use to style your cover photo will determine what a viewer takes away from your channel when they first set eyes on it. But while you're at it, don't forget that YouTube has strict plagiarism rules. Don't use images with copyright claims; you don't want to get a warning or ban in your first month.
YouTube also has a size restriction and image resolution for cover photos. Make sure the picture you upload is within those boundaries.
4. Study Your Audience
You'll have to tailor your content according to the target market to maximize reach. This formula also works in reverse because you can only create the content that you're most comfortable with and viewers are free to choose to watch it. That way, you get the audience for your content that shows a liking for it.
In either case, you need to know your audience if you plan to stick in the long haul. Study their preferences and see what variation and form of your content do they most prefer. Does adding subtitles to your videos or making playlists increase watch hours? How can you make the headlines more catchy? Do tags improve your outreach? Does using background music help? See how all these details come into play when you post a new video and pick up the cues for your next one.
Also, adaptability is key if you want to keep your audience hooked to their screens. Make sure you follow all the newest trends and implement them in your content to stay relevant.
5. Create a Channel Trailer
How do you decide if an upcoming movie is worth a watch? That's right; you watch the trailer.
Trailers are fundamental to the marketing campaign. They offer glimpses from the production and the best shots of the actors in action. This gives the audience a taste of what the direction, acting, screenplay, and graphics will be like, and decide whether to book cinema tickets in advance.
Your channel trailer works similarly. They're short and great for introducing your face, voice, and brand to your audience. It's an excellent way to break the ice and enter the YouTube scene with a warm greeting and anticipation for the upcoming content.
6. Playlists
As you start to get into the rhythm of creating videos, you are likely to create videos that cover various parts of your niche.
For example, if you're into entrepreneurship, you are likely to cover various topics such as online business tips, mistakes to avoid, mindset, digital marketing, personal excellence.
If you're a health coach, you're likely to cover various topics such as your daily routine, food habits, eating right, mindset, exercise.
If you're a pet coach, you're likely to cover different topics such as how to buy puppy, raising it right, imbibing correct habits from the get-go, food, activities to conduct to have a great relationship.
You get the idea.
Group those videos into playlists.
This way, if someone wants to learn more about each topic, they can do deep-dive by going into respective playlist.
7. Video Tags, Thumbnails and Headline
The last thing that's quite important is you need attractive thumbnails to generate curiosity.
And make sure you have a catchy headline.
You need to add SEO tags specific to each video that you're uploading.
Remember that, your headlines and your thumbnails are like your storefront. You'll make it inviting to let people enter into your store (which is, your videos).
All of this can be a lot to take in.
If you are tired of where you're at with your YouTube channel and looking for someone reliable to grow your YouTube channel, look no further. Not too long back, I was at the same spot you might be in today and I can help you turnaround your YouTube channel with organic growth and viewership fairly quickly.
You can visit my YouTube channel to give yourself an idea.
Book a call today and let's discuss the possibilities.
.