As an entrepreneur, you already know how important great customer service is. Connecting with clients and building a strong relationship with them is the key to success.
When your customers are happy, your business will flourish. And happy customers will get you more referrals. After all, word-of-mouth marketing is the most effective and powerful marketing tool!
In addition, statistics show that by increasing client retention by 5% can lead to 25% growth!
Without further ado, let's take a look a few ways you can build a strong relationship with your clients:
1. Open Communication
Transparency is the key to effective communication. Don't hide anything from your clients. Instead of just selling your services to clients have a real conversation with them.
Tell them about what you have to offer. But make sure don't dismiss their concerns. Listen to what your clients have to say. Offer real solutions to their problems.
Remember that you need to build trust. Find out what they're looking for and then offer solutions based on their needs.
Also make sure to train your employees on how they communicate with customers. Teach them to listen attentively. Teach them to validate the concerns clients have.
Create a policy for employees regarding follow-ups. Ensure that your team replies to emails and voicemail ASAP.
2. Exceed Expectations
If you want to exceed expectations, here's the trick: under promise and over deliver.
Keep raising the bar this way. When clients are impressed with the services you offer, they'll keep coming back. This way, you'll build a loyal client following. And they'll also recommend your services to their loved ones or business partners.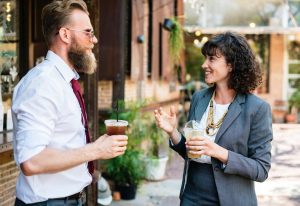 For example: let's say a client orders some of your latest products. You can exceed their expectations by delivering the goods before the date you promised. They'll be impressed by how efficient your team is.
This will help build trust. Your clients will know they can rely on you for being professional and efficient.
3. Ask for Feedback
After you've asked your clients about their requirements and expectations, ask them for feedback. Don't assume that your clients will always be happy and satisfied with the work you deliver.
If it's a big project, you can send them weekly progress reports. Ask them for their feedback. This will help your clients see how much you value their input. It will help them see that you consider their requirements.
This will also make them feel valued and appreciated. But don't stop there. Make sure to listen to their concerns (if they have any.)
Moreover, you won't have to worry about having to restart the project or making changes after sending the finished drafts to the client.
Your clients want to be a part of the progress. Involve them in the project as well. This way, you'll find the best solutions to their problems.
4. Show Appreciation   
Every once in a while, send an email to your clients letting them know how much you appreciate them for choosing your services.
If you own a retail business, show how much you appreciate regular customers by offering a discount program. If you're a B2B company, send your business partners a small gift with a "thank you" card as a token of your appreciation.
This small gesture will completely change how your clients view your business. This will create a level of trust between your team and clients.
Your clients will be appreciated. They will feel like they matter. You can also give away inexpensive items such as stationery and books with your company's logo printed on them. This way, whenever clients use them, they'll automatically remember your services!
This is also a great marketing tactic. Let's say you send pens with your brand's logo printed to a client. When their employees use these pens, they'll remember your company. Additionally, when your client's clients visit and use the pens, they'll become associated with your company.
If they look up your company, you'll also gain potential customers. It's killing two birds with one stone.
5. Keep Up With the Latest Trends
Make sure to keep up with the latest trends in the industry. Remember that customer demands change constantly. You need to not only keep up with the latest demands of your target audience, make sure you're equipped with the latest technology as well.
Offer your clients solutions using the latest resources and technology.
For example: over 72% of adults use online video sharing platforms like YouTube and Vimeo. Video marketing is all the rage right now. Creating short videos based on the services you offer can help improve your relationship with clients.
It'll also attract the right target audience and establish your brand in the market. It's also a great way to educate your clients about the latest services your offer.
For example: you can create a product promotion video. This way, existing clients will learn about the latest services you're offering. When they share the video via social media, it'll also attract the attention of potential customers who might be interested.
Conclusion
These are just a few ways you can build a strong relationship with clients.
If you're looking for more advice or a second opinion, a digital marketing specialist like  Makarand can help devise a strategy according to your requirements. With years of experience in the industry, Utpat is dedicated to his clients, helping create clever and effective digital marketing strategies.
He is also an established author of several digital marketing books and has been featured on TV channels like the NBC, ABC, CBS, and FOX.
Contact Makarand's team by calling 1-888-360-4535 for more information on his services.