Digital Marketing Consultant, Best-Selling Author and Motivational Speaker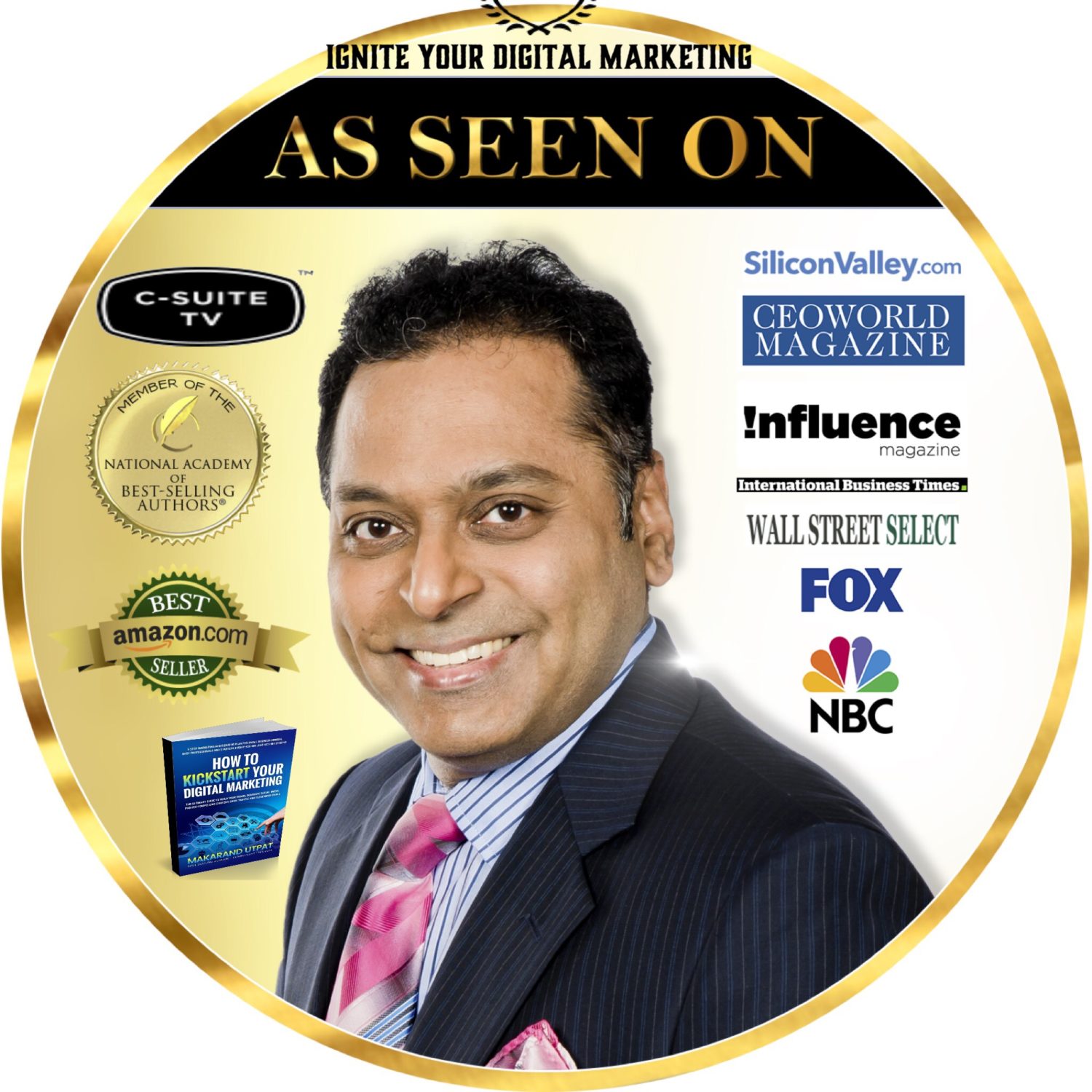 Makarand grew up in Mumbai, India right next to the 3rd largest slum in the world. He hails from a middle-class family and shared 320 Sq Ft tiny apartment with his parents, siblings and grandma. He knows what it takes to transcend beyond the adversities and achieve the breakthroughs.
Makarand came to US with a leap of faith to get higher education. After starting with his career as a software programmer, he steadily climbed the corporate ladder and worked with the likes of Fortune 500 companies such as IBM and Johnson & Johnson.
After accidentally discovering that he had zero Google footprint and that he was irrelevant in the new cyber lane, Makarand went back to the drawing board and completely reinvented and rebranded himself. In the event, he authored or co-authored best-selling books covering the topics such as leadership, digital marketing, business coaching and entrepreneurship.
Makarand has shared a book space with Who's Who of the Corporate America namely: Facebook CIO Tim Campos and Pizza Hut Chief Digital Officer Brian Concors and many other veteran CEOs.
Makarand was also interviewed by a legendary personal success expert and world-renowned thought leader Brian Tracy.
A featured guest on prominent radio shows, Makarand's expertise has been featured on the major radio and media outlets such as C-Suite TV, Fox, NBC and TV Asia. Makarand was also selected as Top-100 influencer and gamechanger by the Influence Magazine.
Makarand owns a digital agency in NJ and works with small business owners to help them stand out in the noisy marketplace using social media, branding and digital marketing.
In addition to his professional work, he truly believes in giving back to the community. Makarand sits as a board of directors on couple of nonprofits in NYC area. Through a nonprofit he has co-founded, it has donated more than $45,000 towards supporting the tribal children's education and social causes.
In his spare time, Makarand is a professional musician and loves to cook delectable curries.
Makarand Utpat- Media Recognition, PR
1. Makarand Utpat on Amazon:

2. Book Reviews for Makarand's Book on Amazon:

3. Makarand Utpat- CEO of the Week Interview- DataBird Research Journal
https://www.databirdjournal.com/posts/ceo-of-the-week-makarand-utpat
4. Introduction of me by a world-renowned legendary personal success expert Mr Brian Tracy

5. Makarand's Book and profile featured on C-Suite Network (C-Suite Networks is recognized as one of the coveted, top-tiered networks of C-level executives in US).

6. Makarand Utpat was interviewed, recognized and selected as "Top 100" game changers and influencers shaping the businesses by the Influence Magazine.
https://www.influencemagazines.com/content/makarand-utpat
7. Watch Makarand's full interview by world-renowned thought leader Brian Tracy (uncut)

8. Makarand- BestSeller TV (They choose and sit down with authors of worlds' leading books)
Connect with Makarand on Social Media:
►Facebook Profile: https://www.facebook.com/MAKARAND.UTPAT.3
►Blogs: www.makarandutpat.com
►Youtube: https://www.youtube.com/c/makarandutpat
►Twitter: @makarandutpat https://twitter.com/makarandutpat
►Instagram: @makarandutpat https://www.instagram.com/makarandutpat/
Samples – Social Media, Personal Excellence and Digital Marketing Videos
Episode 45: Getting Started with Digital Marketing? Don't break a sweat!

Episode 50 Ten Tips on Achieving Personal Excellence and Business Success

Episode 13: 10 Ingenious Ways to 5x Your Branding

Episode 47 Social Media Growth Hacks- 5 Ways to Add Value

Episode 41- Do You Fear of Overexposing Your Brand?

Episode 89 Make Your Customers Hero

Episode 96 Three Biggest Digital Marketing Challenges

Episode 38: 3 Keys to Thrive and Build Your Brand at Any Age- For Men and Women

Episode 31: 5 Ways to Reap Rewards of Facebook Advertising

Episode 8: 5 Killer Tips- How to Solve Your Social Media Identity Crisis Problem?

Episode 11: 3 Things about Lead Generation- What, How, and Relationships

Episode 28: 3 Tips to Convert Prospects into Buying Customers

Episode 43- Why Blogging is Important part of Social Media Strategy?

Episode 44- How to Make Awesome Blog?

Episode 76: When to use LinkedIn vs Facebook

Episode 82 Tips of Killer Headlines

Episode 79 Do This To Get More Leads for Your Small Business

Episode 37: Billionaire reveals Secrets of becoming Rich and Famous. It's Shocking!!

Episode 60: What's the Biggest Lesson of My Life?

Testimonials for Makarand Utpat






Makarand Utpat- Media Appearances, TV Show Interviews, Book Recognition